Our General Service Area
---
Our general service area can be seen highlighted below. With our office located out of Bethlehem, Deily Contractors happily provides homeowners and businesses with professional construction and general contracting services. Our projects range from kitchen and bathroom remodeling to custom home building. Also, please note that we are a small business and in order to provide the highest level of service on our current projects, some services may not be available throughout our entire service area and we reserve the right to change our service area at any time.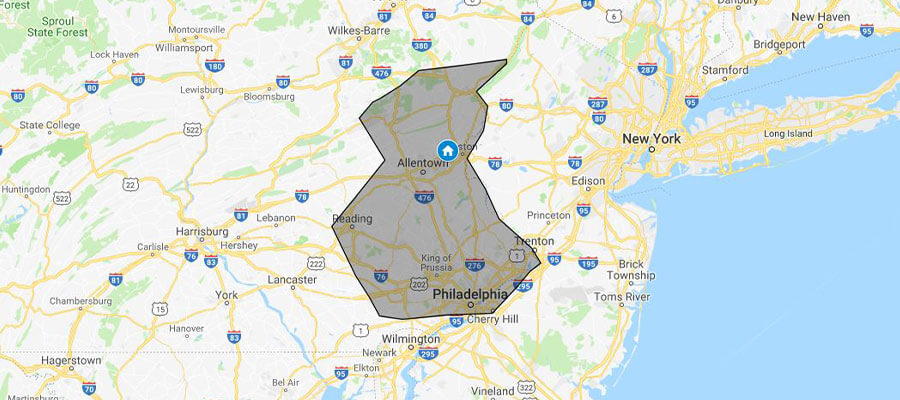 Some Cities, Towns, & Municipalities In Our Service Area
---
Bethlehem, Easton, Bangor, Bath, Chapman, East Bangor, Freemansburg, Glendon, Hellertown, Nazareth, North Catasauqua, Northampton, Pen Argyl, Portland, Roseto, Stockertown, Tatamy, Walnutport, West Easton, Wilson, Wind Gap, Allen, Bethlehem, Bushkill, East Allen, Forks, Hanover, Lehigh, Lower Mount Bethel, Lower Nazareth, Lower Saucon, Moore, Palmer, Plainfield, Upper Mount Bethel, Upper Nazareth, Washington, Williams, Ackermanville, Belfast, Cherryville, Eastlawn Gardens, Martins Creek, Middletown, Old Orchard, Palmer Heights, Raubsville, Allentown, Alburtis, Catasauqua, Coopersburg, Coplay, Emmaus, Fountain Hill, Macungie, Slatington, Hanover Township, Heidelberg Township, Lower Macungie Township, Lower Milford Township, Lowhill Township, Lynn Township, North Whitehall Township, Salisbury Township, South Whitehall Township, Upper Macungie Township, Upper Milford Township, Upper Saucon Township, Washington Township, Weisenberg Township, Whitehall Township, Ancient Oaks, Breinigsville, Cementon, Cetronia, DeSales University, Dorneyville, Egypt, Fullerton, Hokendauqua, Laurys Station, New Tripoli, Schnecksville, Slatedale, Stiles, Trexlertown, Wescosville, Balliettsville, Center Valley, Colesville, East Texas, Emerald, Evergreen Park, Fogelsville, Gauff Hill, Germansville, Guthsville, Hensingersville, Hosensack, Ironton, Kuhnsville, Lanark, Limepor, Locust Valley, Lynnport, Mechanicsville, Meyersville, Neffs, New Smithville, Old, Zionsville, Orefiel, Pleasant Corners, Powder Valley, Scherersville, Schoenersvill, Shimerville, Summit Lawn, Vera Cruz, Walbert, Wanamakers, Werleys Corner, West Catasauqua
Zionsville, Bristol, Chalfont, Doylestown, Dublin, Hulmeville, Ivyland, Langhorne, Langhorne Manor, Morrisville, New Britain, New Hope, Newtown, Penndel, Perkasie, Quakertown, Richlandtown, Riegelsville, Sellersville, Silverdale, Trumbauersville, Tullytown, Yardley, Bedminster, Bensalem, Bridgeton, Bristol, Buckingham, Doylestown, Durham, East Rockhill Falls, Haycock, Hilltown, Lower Makefield, Lower Southampton, Middletown, Milford, New Britain , Newtown, Nockamixon, Northampton, Plumstead, Richland, Solebury, Springfield, Tinicum, Upper Makefield, Upper Southampton, Warminster, Warrington, Warwick, West Rockhill, Wrightstown, Brittany Farms-The Highlands, Churchville, Cornwells Heights, Croydon, Eddington, Fairless Hills, Feasterville, Levittown, Milford Square, Newtown Grant, Plumsteadville, Richboro, Spinnerstown, Trevose, Village Shires, Warminster Heights, Woodbourne, Woodside, Almont, Andalusia, Applebachsville, Aquetong, Argus, Bedminster, Blooming Glen, Brick Tavern, Bryn Gweled, Buckingham, Bucksville, California, Carversville, Center Bridge, Danboro, Dolington, Durham, Elephant, Erwinna, Eureka, Fallsington, Ferndale, Finland, Forest Grove, Fountainville, Furlong, Gallows Hill, Gardenville, Geryville‡, Hagersville, Harriman, Harrow, Hartsville, Highland Park, Highton, Hillside Village, Hilltop, Hilltown, Hinkletown, Holicong, Holland, Hood, Jamison, Johnsville, Kintnersville, Kulps Corner, Lahaska, Line Lexington‡, Lodi, Loux Corner (Hilltown), Lumberville, Maple Beach, Mechanicsville, Mount Pleasant, Neshaminy Falls, Newville, Oakford, Ottsville, Oxford Valley, Paletown, Passer, Penns Park, Pineville, Pipersville, Pleasant Valley, Point Pleasant, Revere, Rushland, Shelly, Solebury, Southampton, Springtown, Strawntown, Uhlerstown, Unionville‡, Upper Black Eddy, Washington Crossing, White Horse, Wrightstown, Wycombe, Zionhill, Ambler, Bridgeport, Collegeville, Conshohocken, East Greenville, Green Lane, Hatboro, Hatfield, Jenkintown, Lansdale, Narberth, North Wales. Pennsburg, Pottstown, Red Hill, Rockledge, Royersford, Schwenksville, Souderton, Trappe, West Conshohocken, Reading, Bally, Bechtelsville, Bernville, Birdsboro, Boyertown, Centerport, Fleetwood, Hamburg, Kenhorst, Kutztown, Laureldale, Leesport, Lenhartsville, Lyons, Mohnton, Mount Penn, New Morgan, Robesonia, St. Lawrence, Shillington, Shoemakersville, Sinking Spring, Topton, Wernersville, West Reading, Womelsdorf, Wyomissing, Pottsville, Auburn, Coaldale, Cressona. Deer Lake, Frackville, Gilberton, Girardville, Gordon, Landingville, Mahanoy City, McAdoo, Mechanicsville, Middleport, Minersville Mount Carbon, New Philadelphia, New Ringgold, Orwigsburg Palo Alto, Pine Grove, Port Carbon, Port Clinton, Ringtown, Schuylkill Haven, Shenandoah, St. Clair, Tamaqua, Tower City, Tremont, Beaver Meadows, Bowmanstown, East Side, Jim Thorpe, Lansford, Lehighton, Nesquehoning, Palmerton, Parryville, Summit Hill, Weatherly, Weissport, Delaware Water Gap, East Stroudsburg, Mount Pocono & Stroudsburg PA.
Bass River, Beverly, Bordentown City, Bordentown Township, Burlington City, Burlington Township, Chesterfield, Cinnaminson, Delanco, Delran, Eastampton, Edgewater Park, Evesham, Fieldsboro, Florence, Hainesport, Lumberton, Mansfield, Maple Shade, Medford Lakes, Medford Township, Moorestown, Mount Holly, Mount Laurel, New Hanover, North Hanover, Palmyra
Pemberton Borough, Pemberton Township, Riverside, Riverton, Shamong, Southampton, Springfield, Tabernacle, Washington Township, Westampton, Willingboro, Woodland Township, Wrightstown, East Windsor Township, Ewing Township, Hamilton Township, Hightstown, Hopewell Borough, Hopewell Township, Lawrence Township, Pennington, Princeton, Robbinsville Township, Trenton, West Windsor Township, Alexandria Township, Bethlehem Township, Bloomsbury Borough. Califon, Clinton, Clinton Township, Delaware Township, East Amwell Township, Flemington, Franklin Township, Frenchtown, Glen Gardner Borough, Hampton, High Bridge, Holland Township, Kingwood Township, Lambertville, Lebanon, Lebanon Township, Milford, Raritan Township, Readington Township, Stockton, Tewksbury Township, Union Township & West Amwell Township NJ.